Techstars Investor Update Template and Real Life Examples
• 10 min read

The need for startups to send Investor Updates, at least monthly, to their investors and followers is well established. Investor Updates are usually sent by the founders or senior management of startups. The Investor Update is not a newsletter or blog for dissemination throughout the internet. The Investor Update should be written, formatted, and designed for easy forwarding by recipients to friends and associates that may be interested in its content.
Why are Investor Updates highly recommended?
Most Startup Accelerators, Incubators, and Venture Capital firms strongly recommend that founders communicate with stakeholders regularly. There are several reasons given for the importance of regular updates:
Develop and maintain excellent rapport with investors. They have invested their resources in the adventure and expect to know how things are going.
Regular forum for advanced notice of future events whether positive or negative without having to send out a special notice when something is not going well when it may be a minor bump in the road.
Updates can help expand a firm's network. If the update is excellent, professional, well-organized and easily read they are more likely to be passed on to potential investors. An update will be opened and reviewed if received by a friend or colleague.
A well-produced update is a means of expanding a firm's network. The formatting must be able to be easily and perfectly forwarded without the need for passwords. There should be a place for recipients to signup for additional information and join a mailing list.
Regular Investor Updates force the firm to be accountable to investors, mentors, and followers. The update is a place to ask for help, seek advice and answer questions if presented. Knowing that a firm's metrics will be viewed will encourage the entire team to focus on meeting their strategic goals.
Increases the likelihood of serendipity moments where a comment in the update reminds the supporter to do something to help the startup. It could be informing a friend of the company or remembering to invest more in the company themselves.
Showing consistent progress is an incentive for followers to become investors. Most people want to see that a firm has real potential. They want to see how the market is accepting the concepts and whether the company is delivering in an efficient way to generate growth. For this reason, the Investor Update should have a consistent look. Information should be in the same place each time for ease of comparison.
What do investors look for is an Update?
Investors are busy people. They appreciate and, actually expect, updates on the activities of their positions in their portfolios. Depending on the level of investment, the involvement can be active or passive. Either way, maintaining a close relationship is critical to the growth of your company:
Transparency is critical. All other admonitions follow from that point. Keep to the facts. Investor Updates are not marketing pitches.
Present all issues and problems in an honest straightforward manner.  Do not gloss over negative events that may be game-changers
Be optimistic about prospects without promising too much. Be realistic. Having to back-track damages one's reliability.
Encourage Investors and mentors to be involved. Provide a place for them to make comments and suggestions.
Ask for assistance with specific requests. A general request will get a general response which will probably not be useful.
Keep updates short and to the point. Cover all the bases without going into laborious detail. Provide a drop-down for additional information when available and necessary.
Provide easy-to-read charts and graphs. "Pictures are worth a thousand words" Tie data into a time frame. Single points of data are not useful gauges of progress.      
What are the best days to send Investor Updates? It is important to be consistent with updates, unlike newsletters and blogs which can go out at any time. Punctuality will show that the company is organized and takes communications with stakeholders seriously. It is best to send updates monthly or at least quarterly if monthly is not possible. The best days are Tuesdays or Thursdays. It is best to send the update out at the beginning of the month. In other words, the first Tuesday or Thursday of the month. Simply pick a date and stick with it.
TechStars Minimum Viable Investor Update Template
The best and easiest way to stay on top of Investor Updates is to use a Minimum Viable Investor Template such as the one provided by TechStars, a leading startup accelerator. As the title implies, it is minimal but supplies the essential ingredients for an update. To be more complete in the summary of a company's performance the following stats or Key Performance Indicators can be included:
Financial overview showing a gross profit, net income, and total expenses
Cash on hand and months of runway
Month over month of user growth
Actual Revenue versus revenue goal trend over time
Percent revenue change month over month
Percentage of revenue from new customers, where appropriate
The total and average revenue per user trend month over month
Customer churn rate month over month
Sign up to use Paperstreet's investor update template for free, it takes 3 minutes.
This minimal investor update gives a quick overview of a company's progress. It does not provide a comprehensive detailed view of the company's progress using multiple formats as outlined in What do investors look for is an Update.
Most of this data is available. It is a matter of putting it into a form that looks good and is understandable.  A more telling, readable and engaging update can be seen in this version from DwellSocial using a template provided by Paperstreet.VC, a leading provider of tools for making communications between companies and their stakeholders meaningful and rewarding. Using a customizable pre-formatted template makes it easy to send updates and communications regularly.
Real life examples of TechStars investor updates
These updates are not exactly "Minimum Viable". But these real life investor updates show you the "behind the scene" wins and struggles of startup founders.
*********Example-1 starts*************

My people! I have been thinking about all of you lately and miss you all dearly. Email me! I love hearing from you <3
👨🏻‍🏫 TLDR
We're commencing raising our seed, we had two record months of growth, received a coveted beta invite to OpenAI's GPT3 algorithm (scroll down to Product), and refined how we describe our vision, problem, and solution to investors.
In terms of performance, Keys was used over 15,000 times last month and over 60,000 phrases were viewed. Over 5,200 people have joined our waitlist. Did I mention we're raising? 😋
If you want to experience the future of communication, you have to try Keys. It doesn't matter if you're single or married, Keys works anywhere you can access your keyboard. Send me a text message using Keys at 650.387.7993.
https://apps.apple.com/us/app/keys-for-dating/id1510154956
Access Code = charmedmentor
⚡️ Numbers
- 9-week new user retention of 41% (elite B2C benchmark = 20% @ 8 weeks) 🔥
- 9-week Power User retention of 80% 👀🔥👀🔥👀🔥
- 15,064 cold-starts tackled last month (+1,110%) 🔥
- 60,560 phrases viewed last month (+110%) 🔥
- Website conversion rate steady at ~50% 🔥
- 5,200 member waitlist 🔥
✨ Vision
Keys represents a paradigm shift in mobile communication. Why type letters when we can type ideas? By starting with ideas, not letters, we are redesigning the keyboard and how we use it.
Our initial problem is the cold-start. Immense cognitive energy is wasted overcoming a blank screen and blinking cursor. Starting a conversation, like starting your car when it's cold outside, is difficult. Keys overcomes the cold-start by suggesting language based on your intent.
Our initial target customer is daters; there have been over 90 billion cold-starts on dating apps since 2012. But the cold-start problem is ubiquitous and dating is only our wedge.
Early investor feedback suggests our new framing better conveys how huge the opportunity is and how well we are positioned to dominate this market.
🗣 What users are saying




User of the Month
John. John heard about Keys from a friend. After seeing the product on his friend's phone, John exclaimed "Wow I want that!" John has also been using Keys outside of dating apps -- for example in text threads with his friends. This is the core user behavior we desire. Word of mouth > Product demand > Engagement > Habit formed > Expanded use-case.
🎯 Strategy & KPIs
After a hard look in the mirror, and some (lots) of mentor guidance, we realized we had been focusing too high up the funnel, on acquisition and conversion of users, and not deeply enough on product and retention. We're learning 🤷🏻‍♂️
Our #1 goal is to build a product people LOVE. Period. Full-stop. If 'love it' could be a KPI, it would (and if it was, we have several!). Being retention-focused forces us to build something that early users love. Engraining Keys as a habit, the tool you automatically reach for when you don't know what to say, will allow us to own the consumer on any channel they communicate.
Despite our early stage (9 weeks of data), we have seen remarkably strong retention. 9-week weekly retention is at 41% (a common B2C benchmark of 20% retention at 8 weeks is considered elite), and our average user is using Keys just shy of 3 days per week (3 days per week is another consumer gold-standard).




Power Users
We are really excited about our early power users. Understanding this group and their behaviors, which we define as the top 10% of users, will be the key to unlocking sustainable growth.

80% of Power Users are using Keys 9-weeks after installing
Power Users reach for Keys 14 times every day
Power Users view 110 phrases every day

You're right, that's MINDBLOWING. These are habit-forming numbers we WANT!


🖥 Product
Product development has been laser-focused on improving engagement. Recent features include:
New Content Notifications
Phrase Progress Bar
In-keyboard advice 'cards'
Real-time dating advice from dating coaches
Improved onboarding
Improved tracking capabilities

GPT3 AI Integration
We are fortunate and proud to announce we have been invited to beta test OpenAI's GPT3 technology. GPT3 is, simply put, better at generating human sounding content than any AI that has come before. We could not have concocted a better AI match for Keys than GPT3 (literally; like zero chance). Integrating GPT3 will allow Keys to scale limitlessly.
Inputting tonal and textual cues will allow users to personalize content, while simultaneously allowing users to generate an endless number of cold-start solutions customized to their voice. This is truly future-tech type stuff!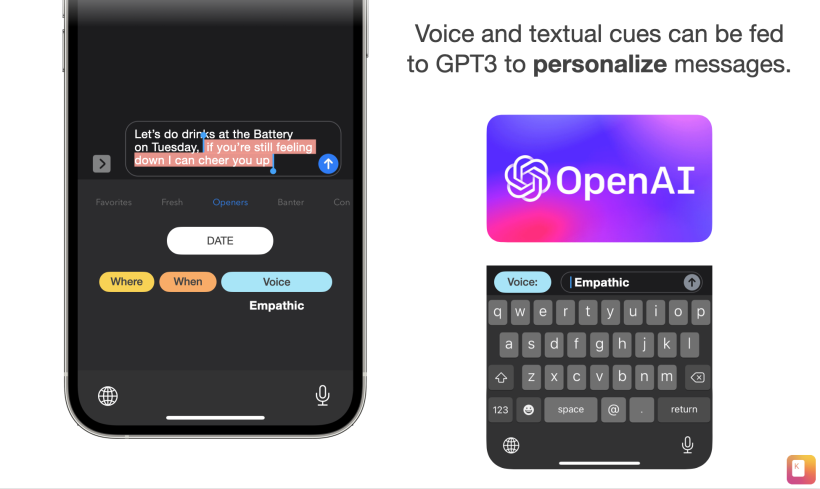 💰 Financials
Cash on hand = $170,000
Burn = $24,000
Runway = 7 months
🙏 Asks
1. FORWARD THIS EMAIL
We're raising! PLEASE forward this email to investors you think would be a good fit.I've started reaching out to investors and am beginning to book meetings to go over the opportunity to invest in the company. Feedback around our metrics has been overwhelmingly positive, and I think we are going to have a highly competitive round with a set of industry-leading investors.
I am looking for amazing seed and angel investors to meet with later this month and in January.
Our ideal investor...
has experience investing in consumer (specifically messaging, communication and/or dating)
is drawn to bleeding edge technology & AI,
is looking to help build an entirely new consumer experience,
can help strategize how to best integrate GPT3, and
can provide strategic connections for the company.
If you know someone who could be a good fit, please forward this email and email me!

2. PITCH & DECK FEEDBACK
Are you interested in making somebody feel like all their hard work was in vain? Then have I got a job for you! I kid, I kid. No vain is in hard work. I mean, no hard work is in vain!

I would love feedback on our deck, and if you're willing, my pitch too. Please HMU (hit me up...) if you'd like to help 🤓

3. HOW TO SEGMENT OUR MARKET
I'm working on ways to segment our market. I see two paths currently. Can I get some feedback? I'm looking at you, person who thinks themselves full of insights...
Path #1: Segment keyboard market into Productivity keyboards (sound more professional with Grammarly), Expression keyboards (express yourself through images with Bitmoji), and Creation keyboards (overcome cold-starts with Keys). Productivity and Expression keyboards focus on Known relationships (your boss, your friend). Keys optimizes creating New relationships. Keys can own the New Relationships market. Slide here: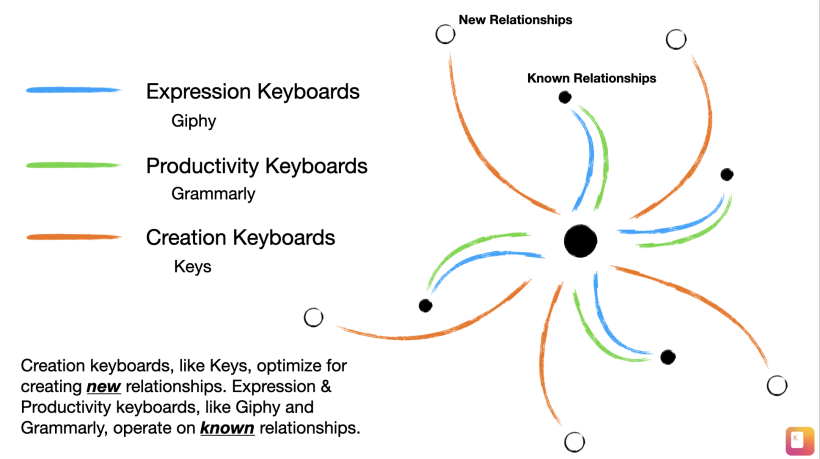 Path #2: Segment keyboard market by Lifecycle of a Message. All messages follow the same arc: Idea (I want to introduce myself) > Think (mentally formulate message) > Type (tap keys) > Edit message > Send message. The most mentally taxing stage is Think. SwiftKey helps you type faster, while Grammarly helps you edit a message you've already drafted. Typing and Editing require less mental exertion than coming up with the original message. Keys can own the Think market. Slide here: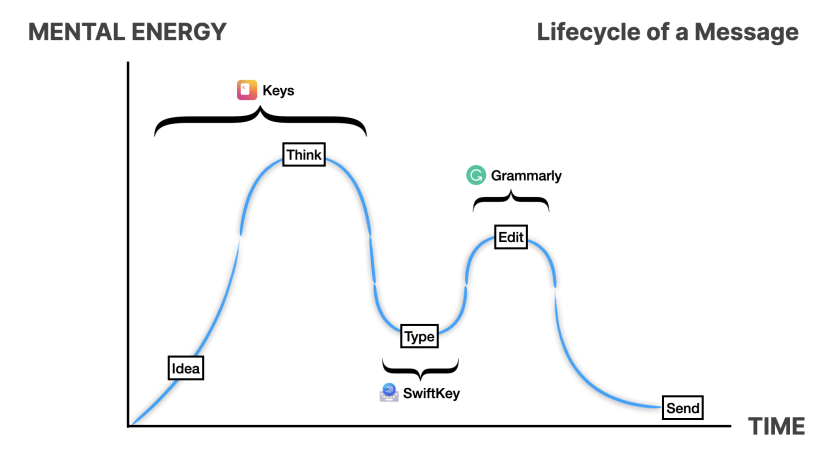 🏋 Challenges
Getting our emailable investor deck TIGHT
Keeping up with the product feedback and ideas we're receiving
Understanding the mountain of data we are sitting on now
Uncovering more "aha" moments for users
Integrating GPT3 effectively and thoughtfully
Conveying to investors that daters are our initial target user, but only the tip of the iceberg. We've been so focused on talking to users & specific metrics recently that it is easy to get lost in the weeds
📢 Shout Outs
Max Greenwald for the GPT3 connect
The 100 other people that listened to me talk about a GPT3 invite
Kevin Liu for hosting Techstars Pitch Feedback sessions and endless intros
Bruce Ettinger and Adam O'Donnell for the vision & deck feedback
*********Example-1 ends*************
*********Example-2 starts*************
(Coming soon)
*********Example-2 ends*************