Top Investor Update Softwares That Save Startup Founders' Time
• 10 min read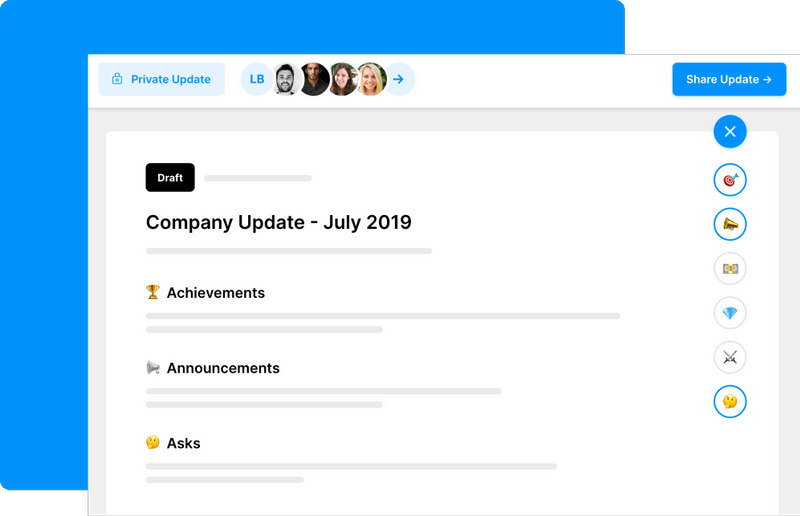 Top Investor Update Softwares That Save Startup Founders' Time
Starting a business to provide a product or service that you're proud of to other people may seem exciting and thrilling at first. But being a startup entrepreneur also means that you have to take multiple hats to make sure your business will be sailing smoothly.
And one of the important tasks that startup founders have to do that is often overlooked is writing investor updates.
Investor Updates: What Are They? And Why Should You Be Writing Them?
If you're not aware of this term, an "investor update" is a term used in the startup ecosystem to describe a progress report. CEOs and/or founders of a company are usually the ones who write them, and generally speaking, they write about how the company is doing, what changes they have experienced since the last update, how their key performance indicators (KPIs) are performing, and what the company needs help with.
There are several reasons why writing investor updates — also known as investor reporting — is essential for any company. For veteran entrepreneurs, investor reporting keeps their financial investors updated with everything that's happening in the company. Meanwhile, for startup founders, investor reporting can be used as a way to grow their network.
After all, investor updates build trust with potential investors, which can hopefully lead to the startup fostering relationships with other leaders in the industry. Because of all this, startup founders should consider writing investor updates as soon as they have started their businesses.
Top Investor Update Softwares for Startup Founders
From the explanation above, it seems like there is so much that's riding on investor updates. As a result, you must craft the best investor updates possible. But in order to achieve this, you might have to take a lot of time to perfect the updates, and with your busy schedule, that might be impossible to attain.
Luckily, there are software programs out there that save your time by helping you write investor updates. The following are some of the best programs to choose from.
Paperstreet
Website: https://www.paperstreet.vc/
Paperstreet is a company that aims to help both startup founders and investors alike. For founders, the company helps them deliver beautiful updates through a fast and easy process. Meanwhile, for investors, Paperstreet helps them manage portfolios with ease and allows them to create watchlists of promising startups.
With their investor reporting service, Paperstreet provides founders with several built-in investor update templates that make it very easy for them to fill in the relevant information. All founders have to do is input the details under certain categories like "financials" and "strategy," or they can create their own reporting sections.
In addition to making it easy for founders to fill in the necessary details, the Paperstreet investor update templates are also clean and easy to read. As a result, investors will be able to read the reports fast and with no problem at all, thus saving them a lot of time.
The best thing about Paperstreet's service is that they will soon have a forever free subscription plan. This plan already includes so many features, such as investor update template and composer, contact management system, unlimited contacts and teammates, and basic analytics. They also have a premium plan that includes all the features of the free plan, plus additional features like premium analytics, scheduled updates to send later, and unlimited investor update recipients. The premium plan is priced at $25 per month.
Visible
Website: https://visible.vc/
Visible was founded in 2014 by a group of founders and operators who had been struggling with the common and incredibly frustrating problem of providing engaging updates to their investors. The company believes that it is good communication that makes companies grow.
As of right now, Visible has helped more than 4,300 companies in 37 countries all over the world in creating regular and professional updates.
FounderSuite
Website: https://foundersuite.com/
FounderSuite is a software that aims to make tools that will help founders build their companies. As such, the company streamlines painful tasks like raising capital and investor relations so that founders can focus on product and customer acquisition.
FounderSuite's core product line includes:
A searchable database of 120,000+ investors for building the founders' network,
A "kanban" CRM for managing your investor pipeline,
A pitch deck hosting with view tracking,
A collection of templates (i.e., pitch decks, models, cap tables, term sheets, etc.)
An investor update tool for reporting and relations
Currently, FounderSuite has partnerships with several angel investors, including Will Bunker, Steve Bennett, and Foley Ventures.
Mailchimp
Website: https://mailchimp.com/
Founded in 2001, Mailchimp is an all-in-one marketing platform for small businesses. This software was designed as an alternative to the oversized and expensive email software that was popular during the early 2000s.
Even though Mailchimp started as an email marketing tool, founders have discovered that they can use it to send investor updates as well. Additionally, the software has launched a slew of new channels and functionalities over the past couple of years. Some of these new channels include social posting digital ads, a marketing CRM, shoppable landing pages, postcards, and smart content tools.
Backstop Solutions
Website: https://www.backstopsolutions.com/solutions
Backstop Solutions Group is an award-winning provider of innovative software solutions to hedge funds, pensions, endowments, private equity firms, consultants, and family offices of all shapes and sizes. This software was founded in 2003 with the primary mission of helping businesses in the institutional investment industry use their time to its fullest potential.
Backstop Solutions offers several services in their productivity suite, namely:
Backstop CRM: for developing and maintaining profitable business relationships
Backstop IR: for optimizing investor trust and loyalty with honest, informative, and consistent account servicing
Backstop Portal: for meeting investors' needs for transparency and accountability
Backstop Research: for optimizing the teams' research management and ODD efforts with a 360-degree view of qualitative and quantitative information
Backstop Portfolio: for gaining clear insight into multi-asset class portfolios with centralized and comprehensive portfolio management
Backstop Accounting: for sophisticated partnership and portfolio accounting to accurately measure success
All these services will be able to help founders in making the most of every minute of their businesses.
Ledgy
Website: https://ledgy.com/
Ledgy is an equity management platform that is designed for growing companies. This software offers several services to founders, such as privacy and security, automate document handling, legally compliant digital signatures, shareable investor reports (customized PDFs), and more funding rounds, future dilution, and exits.
Ledgy's services will enable the founders to do everything they can to grow their businesses.
EquityEffect
Website: https://www.equityeffect.com/
EquityEffect is a software that offers a powerful suite of industry-specific tools for private companies, investors, and law firms.
For investors and venture capitalists, EquityEffect offers centralized cap tables, KPI and ESG metrics gathering, scenario analysis, and automated tear sheets. For private companies, they will get option administration, cap table management, next-round and waterfall modeling, and 409a valuations. And finally, for law firms, the software provides them with integration and white label, central dashboard, equity tools, and advanced reporting.
All in all, EquityEffect allows founders to get rid of sloppy data and enjoy an accurate reporting of their businesses' performance.
Nasdaq IR Insight
Website: https://www.nasdaq.com/
Nasdaq IR Insight is a company that is founded on the idea of leveraging novel technology at the right time and the right place. It is their goal to reimagine the current markets — not by chasing the possibilities of tomorrow, but by creating them.
In particular, Nasdaq focuses on synchronizing and optimizing market movement, and so, the company can provide founders with a high level of infrastructure, tools, and strategic insight. They are also well-known for their top-rated data offerings.
Aduro FundPanel
Website: https://www.fundpanel.io/
Aduro FundPanel is a fund administration software that is created by Aduro Advisors. The company is one of the leading firms in venture capital fund administration, and they enable founders to quickly and efficiently handle the details of their most important investor communications.
Aduro FundPanel offers several services to founders, such as cloud solutions that eliminate double-entry by syncing with the underlying enterprise-grade CRM and an investor portal that allows investors to easily view funds, capital commitments, capital calls, distributions, and capital accounts.
As a result, the company is trusted by dozens of the largest funds in the US and around the world, and they are a reliable resource that streamlines the process of error-free reporting.
eFront
Website: https://www.efront.com/
eFront is a leading technology solution suite for alternative investment management. The company covers the needs of alternative investment professionals, such as fundraising, portfolio construction, investment management, and investor reporting.
In 2019, eFront was acquired by BlackRock and was integrated with Aladdin, which is BlackRock's investment technology. Together, they bring public and private asset classes to deliver the industry-leading multi-asset investment platform. As of the moment, eFront has over 850 clients in 48 countries.
DFIN
Website: https://www.dfinsolutions.com/
Founded in 1983, Donnelley Financial Solutions (DFIN) is a leading provider of financial reporting solutions. The company accelerates regulatory reporting, deal-making, and AI analysis, and they also leverage the top cloud-based tools so that they can power every stage of the investment lifecycle.
DFIN offers several solutions that will help founders work more efficiently. Additionally, the company also has industry experts, data scientists, regulatory specialists, and advisors that can provide unique perspectives on the challenges the founders face.
AtomInvest
Website: https://software.atominvest.co/
AtomInvest is a software company that aims to provide the next generation technology systems for alternative investment managers.
This software offers functionality and workflows to fund managers, their service providers, and investors. As such, there are several services that AtomInvest puts out. Some of their well-known services include sourcing and monitoring deals, raising funds, managing investor relationships, monitoring portfolio, investor reporting, and accounting.
AtomInvest works across all kinds of funds, including private funds (private equity, venture capital, credit, and real estate), evergreen funds (hedge funds and open-ended funds), and direct deals or co-investments.
Betterfront
Website: https://www.betterfront.io/
Betterfront is a fundraising and data analytics platform that helps fund managers attract, engage, and retain LPs. Moreover, the company is also an investment technology company that is dedicated to the private capital markets.
Betterfront has the primary goal of helping founders streamline their fundraising and investment processes of private market funds. And they achieve this by using data and technology to unlock insights that drive smarter and faster investment decision-making.
Business Keeper
Website: https://www.business-keeper.com/en/
Founded in 2001, Business Keeper is a provider of electronic whistleblowing systems and a leader in compliance software. Business Keeper's goal is to a business culture based on values and fostering good company management.
Business Keeper's primary service is the Business Keeper Monitoring System (BKMS), also known as BKMS Incident Reporting. This service enables the internal discovery of mistakes at an early stage so that companies can be protected from reputation damage and financial harm.
Moreover, BKMS has a compliance system that is a modular platform designed to help founders easily and effectively handle all the compliance-related challenges that they face. The compliance system also displays relevant statistics, approval requests for business partners, and open tasks from the case management tool.
Dynamo Software
Website: https://www.dynamosoftware.com/
Dynamo Software is an industry-tailored and highly configurable platform that solves challenges across the private investment landscape for fund managers (GPs), deal teams, asset owners/allocators (LPs), and other related industry participants.
In particular, Dynamo Software has a service called the Dynamo Investor Portal, and this is a configurable, online hub that provides your investors secure access to their individual investment data and fund performance. Additionally, the portal allows founders to streamline the delivery of any level of transparency to their investor base, reduce ad hoc support or informational requests, and integrate with their firm's branding.
Currently, Dynamo has served over 1,000 clients all over the world.
EQS Group
Website: https://www.eqs.com/en-us/
Founded in 2000, EQS Group is a leading international RegTech provider specializing in corporate compliance and investor relations. All of the company's products are pooled in cloud-based software, and they ensure the professional control of compliance workflows.
In particular, the two EQS products that help in investor reporting are EQS Insider Manager and EQS IR COCKPIT. The EQS Insider Manager maintains digital insider lists in accordance with the EU Market Abuse Regulation. At the same time, the EQS IR COCKPIT is the world's first platform that brings together investor data, contact management, and new distribution (both regulatory and non-regulatory) in one tool.
EQS has offices in the world's key financial markets, and they have over 400 professionals in their employ.
IHS Markit
Website: https://ihsmarkit.com/
IHS Markit is a company that aims to bring together the deepest intelligence across the widest set of capital-intensive industries and markets.
For investor reporting, the company offers IHS Markit Issuer Solutions. With this service, founders will get an integrated suite of advanced technology, data science, and expertise that helps target shareholders. Additionally, founders can also communicate effectively, evaluate strategy, and increase efficiency. This service will enable founders to get the most out of their IR program.
As of right now, IHS Markit has a dynamic team of more than 5,000 analysts, data scientists, financial experts, and industry specialists.
Q4
Website: https://www.q4inc.com/
Q4 is a company that aims to help their clients achieve their IR goals and build trust and confidence in the capital markets. They achieve this by their commitment to providing actionable intelligence, ever-changing technologies, and first-class client service.
The company's primary product is the Q4 Desktop, which is a fully integrated investor relations platform that combines CRM with advanced market intelligence tools to simplify and streamline the entire investor relations workflow.
Some of the services that Q4 Desktop offers include activity logging, pipeline solutions, intuitive contact-level targeting, time-saving report building functionality, itinerary building, roadshow planning tools, a database of validated financial data, trading analytics, relative performance, and activism alarms.
Investor Intelligence
Website: https://www.investorintelligence.io/
Investor Intelligence aims to simplify the methods of researching, reaching, and managing investors across the entire fundraising process.
In order to achieve this, the company has an investor update service that allows founders to build great updates for their investors. They have several document templates to choose from, and all of them are fully customizable. Additionally, Investor Intelligence also has an investor CRM where users can search the database of over 100,000 investor profiles.
Navatar
Website: https://www.navatargroup.com/
Navatar is a premier platform for alternative assets and investment banking firms. The company aims to help companies meet their business needs by offering services in marketing, investor relations, business development, deal management, deal execution, and many more. Navatar's products are divided into several categories, namely Private Equity, Investment Banking, Corporate Development, Fundraising and Investor Relations, Deal Room, Mezzanine, Venture Capital, Hedge Fund, Corporate Venture Capital, Real Estate, Investor Portal, and many more.
Because of their vast array of products and services, Navatar is used by hundreds of private equity funds, M&A firms, corporate development teams, and many other financial services companies.
Conclusion
Investor reporting is one of the many things that founders have to do so as to grow their businesses. With investor reporting, you can give updates to their potential investors about your company's achievements and future goals, and this allows you to build trust and foster relationships with investors and other businesses in the industry.
But writing an investor update can be incredibly daunting, which is why it's a good thing that there are investor update softwares available nowadays. Essentially speaking, investor update softwares are tools that can help you build a great and easy-to-read investor update for your investors.
The 20 softwares mentioned above are only some of the best investor update softwares out there. So, look through the list of investor reporting tools, and take your pick. It will significantly help you in your business venture.